Our VitalSigns Cooperative Assessment
®

is the only nationally-benchmarked employee survey designed exclusively for electric cooperatives. It will help you:
Improve morale at the co-op
Increase employee productivity
Improve safety
Reduce employee turnover
Harness the vast knowledge of your entire workforce
Better anticipate future leadership challenges
Enhance your co-op's culture
The VitalSigns Cooperative Assessment®  makes all of this possible for co-op leaders – simply, quickly, and at a cost that every co-op can afford.
Your employees can complete the survey on a computer or mobile device - in the office, in the field, or at home!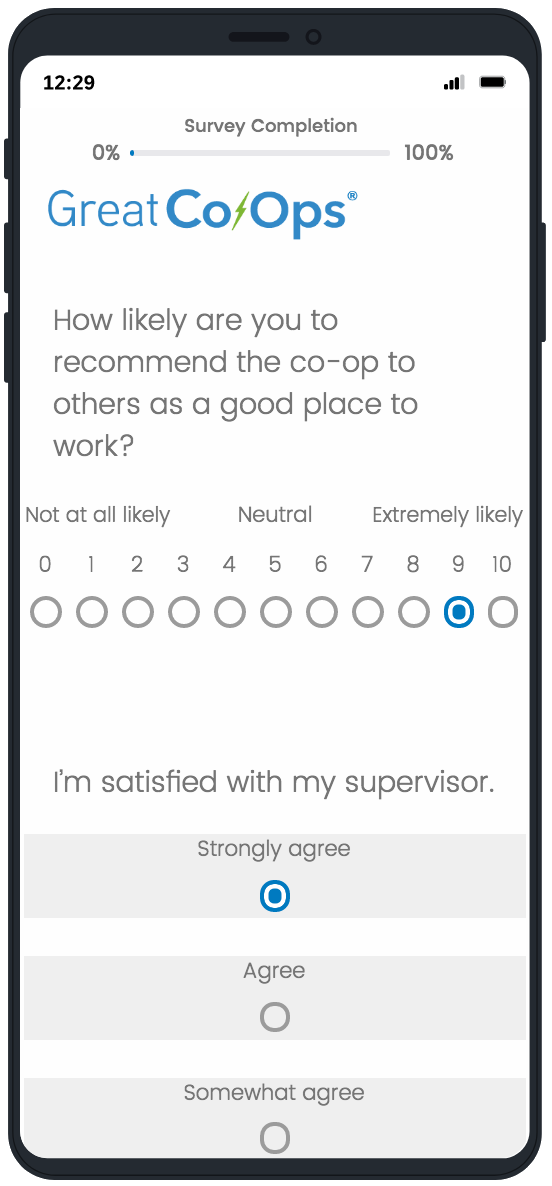 The GreatCo-Ops VitalSigns Cooperative Assessment® is a powerful, cost-effective employee survey that our team designed specifically to meet the exact needs of today's electric cooperative leaders.  In fact, almost two dozen co-op leaders helped us design the survey!
When you engage us to survey your employees, you will understand your co-op's people and culture like never before. Plus, we will benchmark your co-op against other electric distribution co-ops so you will know exactly how your co-op is doing.
The survey assesses each co-op on many critically important criteria, such as:
Co-op Culture

Morale

Safety Climate and Challenges

Key Strengths and Weaknesses

Process Efficiency and Effectiveness
Employee Engagement

Employee Satisfaction With Pay, Benefits, Communications, and More

Employee Training Needs

Employee Commitment to the Co-op and Buy-in to the Mission
Customized Reporting
When our data analysis is complete, you will receive a report detailing your co-op's numerical scores on each component of the VitalSigns Cooperative Assessment®, as well as your rankings among the other participating co-ops nationally. The report will include the full text of anonymous written comments from employees to add richness and context to the numerical scores. You will also receive a focused narrative highlighting areas of strength and concern, providing clarity on where to direct your attention to produce the biggest improvements for your co-op.
In-Depth Consultation
Once the report is delivered, you will have an in-depth phone consultation with GreatCo-Ops to discuss your co-op's scores, the key challenges identified in the assessment, our team's perspectives on possible solutions to those challenges, and top leadership priorities.
Collaborative Best Practices Development
The top-scoring cooperatives each year in the primary categories of the VitalSigns Cooperative Assessment® are invited to share their strategies for success during a best practices conference call for participating co-ops. This information exchange ensures a flow of knowledge between co-ops that leads to the development of new best practices, driving improvements in cooperative culture and performance.
Benefits and Outcomes for Participating Cooperatives
Improvements in the co-op's culture, morale, safety, risk, operational effectiveness, and overall performance
Increased board, employee, and member confidence in management
An entirely new suite of employee-focused metrics that predict future success and are easily reevaluated annually
Clear, actionable, data-driven insights about the cooperative's "health," both in absolute terms and relative to other co-ops
New knowledge that is essential to determining the most important priorities for co-op leadership
Increased learning of best practices from peer co-op leaders
About the VitalSigns Cooperative Assessment®
The GreatCo-Ops VitalSigns Cooperative Assessment® is a brief, anonymous, online, all-employee survey. It is powerful because it extracts and synthesizes the vast storehouse of knowledge gained by a co-op's employees over their hundreds of years of aggregate experience in the industry.
The results of our 15- to 20-minute survey give co-op leaders much deeper insights into organizational culture, risks, strengths, weaknesses, employee engagement, and much, much more.
The team at GreatCo-Ops handles all aspects of survey implementation. We also provide co-op leaders with language to use in communicating the nature and importance of the program to employees and board members to boost employee response rates and ease any concerns.
Frequently Asked Questions
Ready to have GreatCo-Ops survey your employees? Let's get started!