How To Develop Consensus On Your Co-Op's Future
In our previous two blog posts, we discussed the key components of a comprehensive strategic architecture for electric cooperatives, as well as the specific steps in an effective strategic planning process. This month, we turn our attention to a vital part of the strategic planning process, external analysis. When done right, this step in the process enables your team to arrive at a consensus on what your co-op's future disruptors are likely to be. As a result, your senior staff can begin to formulate strategies and tactics that will position the co-op to thrive long into the future. This step is the foundation upon which your strategic plan is built.

For the past four decades, professionals in the field of business strategy have been developing and refining tools to help executives better predict their organizations' future operating environments. Our team has distilled these tools, research studies, and books on business strategy into a powerful model that we use with our clients. This model has been proven to create dialog and widespread agreement among senior staff and directors on the challenges, risks, and opportunities the co-op is likely to face in the future.

As a co-op leader, you know well that your operating environment has become much more complex. And, the future will be even more disruptive. As a result, you need a tried-and-true model to help you, your senior staff, and your board to develop a similar view on what the future will look like. The GreatCo-Ops Cooperative Disruption Model℠ does just that.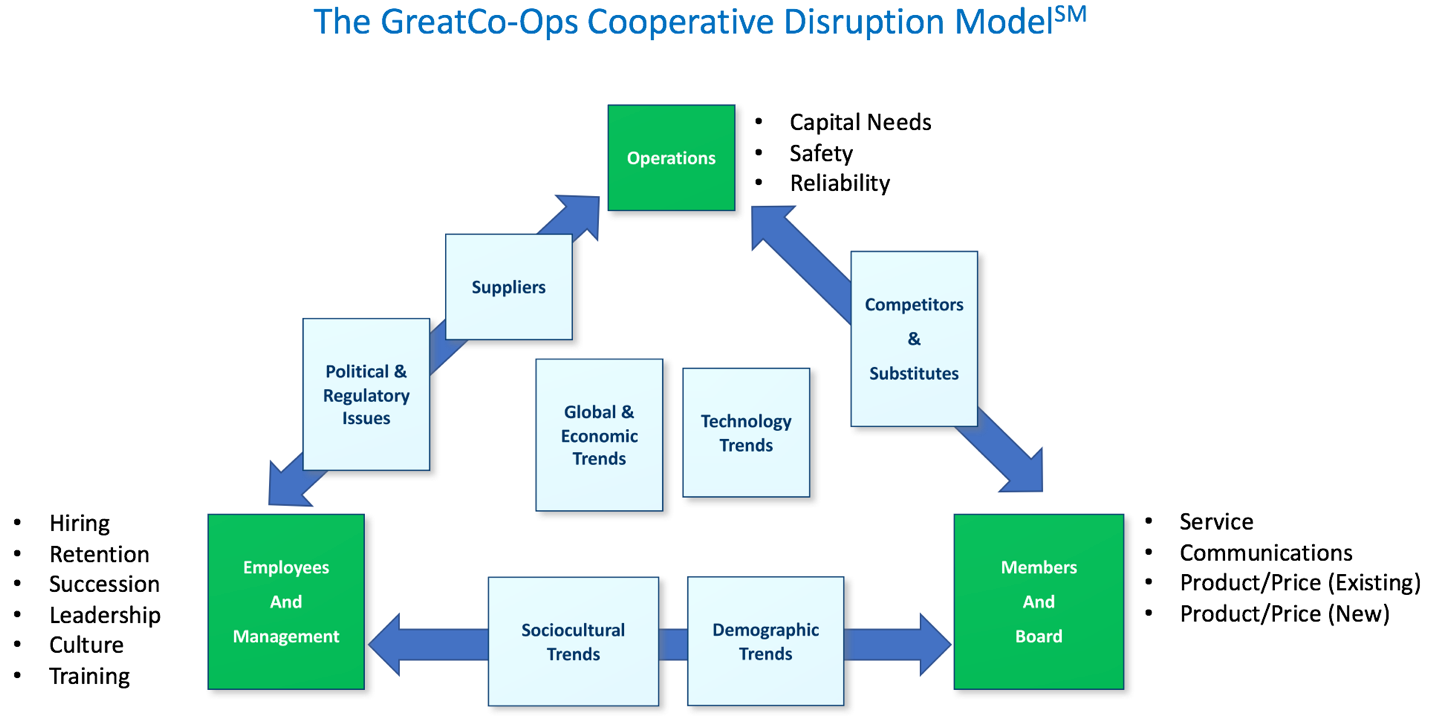 Co-op senior staff and directors should spend several hours each year discussing these components in-depth. Particular focus should be given to the expected future state of each component rather than the current state. Participants in the discussions should have an agreement up-front about the definition of "future," being careful to focus on a timeframe that makes sense for the cooperative's planning horizon. (We have found that 3-15 years generally works for most co-ops and most disruptors, depending on the matter under discussion.)
While a full discussion of the model and its use in practice is beyond the scope of this blog post, please keep the following in mind:
In short, the future is murky for co-ops. However, by bringing together the right expertise and employing the GreatCo-Ops Cooperative Disruption Model℠, co-ops will be able to add significant clarity to the future. Moreover, the consensus and confidence that comes from using such a tool correctly will inspire your board, senior staff, and employees to get behind the strategic plan that results from this effort.

Our team would be delighted to visit with you about how you might use this model to create foresight, consensus, and enthusiasm at your electric cooperative. Contact us today so we can set up a call!